OVERVIEW: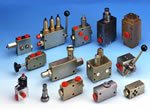 HAC offer a full design service based on over 40 years experience in the industry catering for both relatively simple block configurations to the development of complex solutions to suit specific client requirements. HAC work closely with clients and take the time where required to make site visits to gain an understanding for the associated applications in order to develop the optimum solution.
Design Services:
The spectrum of disciplines covered by HAC includes:
Circuit Design
Mechanical Design
Electrical Design
Prototype Development
Valve Sequencing:
HAC developed with Dowdeswell Engineering a valve that sequences by monitoring the oil flows to and from the cylinders. When each cylinder stops moving the next cylinder movement is triggered, the advantage being that full pressure is available for each cylinder movement. read more…
Programmable Sequencer
: To simplify alot of the logic control, HAC have developed a computer programmable sequencer/controller that allows advanced logic control to be tidied up into a black box. The electronic device can be programmed to detect pressure drops, temperature changes, and to perform a whole range of conditional activities. This device is mountable within its own shock proof enclosure as well as offering integration with existing client control panels.
Reciprocating Valves:
The new reciprocating valves from HAC are CETOP 5 (NG10) and line mounted, and were designed for a specific client application.